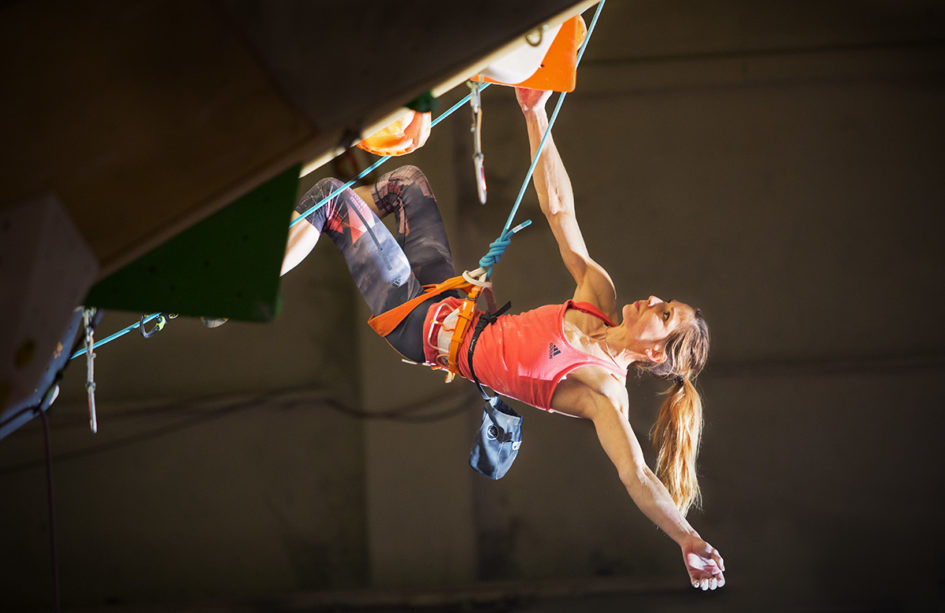 Sat 20
[Gym open to public until 18:00 with some limitation]
Climbing Technology Combinata (CTCO)
Our juniores climbers will be explaining the 3 disciplines, the different training & the methodologies to get prepared on these so different skills.
Athletes
Giorgia Tesio
European boulder champion on 2015 and 2016 and European combined champion on 2017.
Martina De Petro
FASI's member since 2013, she is Champion of the Regional Lombardy Absolute Boulder Championship 2017.
Asja Gollo
Since 2013 she is part of the Italian National Youth Team and since 2015 also of the Senior National team.  She is vice-champion of the U16 World in Lead 2014.

Davide Colombo
In 2017 he won European Boulder Cup, Italian Juniores Cup in Combined and Boulder and U16 Boulder and Combined Italian Championship.
Matteo Manzoni
At 12 he climbed his first 8a and he climbed up to 8b+. He also solved boulder problem up to 8b level.
Pietro Biagini
He starts his climbing career at the age of seven. He actually scores more than 200 routes above 8 grade, 14 8C and 2 8C+.
Prizes are offered by Oliunìd.
Program
14:00 Presentation
14:30 Speed challenge
15.30 Lead challenge
16.30 Boulder challenge
---
MCE18 Boulder Contest – MCE18BC
Every athlete will be set her or his own problem and every climbers will climb these all! Creativity, strategy and a bit of "malice" will be the ingredient of this contest as well as the technical skills.
Athletes
Anna Stohr: she has dominated for years the Boulder World Cup for a total of 22 wins and 45 podiums. She also won the Boulder World Champion twice as well as Boulder European Champion twice.
Katharina Saurwein: in recent years, she has been doing more and more outdoor climbing, and is particularly adept in highball bouldering. She climbed Dihedral Wall on El Capitan in Yosemite with Jorg Verhoeven and then sent as first women Final Frontier.
Giulia Medici: she has been part of the youth national team for 4 years and of the senior for 2.
Kilian Fischhuber: he has dominated for years the Boulder World Cup: he won five times the Boulder World Cup with 21 wins and 46 total podiums.
Gabriele Moroni: he has been a point of reference for Italian climbing for more than ten years.He sent up to level 9A+ with 8 routes of 9A level, and first Italian to send Action Direct in Frankenjura.
Andrea Zanone: he says "I really love route setting, it's not only a job… it's my passion! And a way to share my passion for climbing to other people"
Additionally, two WIldCarded athletes (1 woman and 1 man) from the Friday RNBC contest will have the pleasure to climb with the above athletes!
Program
11:00-13:00 Atletes to set their boulder
18.30 Boulder Contest challenge (LIVE STREAM)
---
MCE18 Lead Contest – MCE18LC
In the city of Milan the best ever world wide and Italian climbers, the ones who raised the Outdoor difficult level above any foreseen limit, are challenging on the incredibly overhanging roof @RockSpotNordOvest!
3 routes will be prepared for them by Alberto Gnerro to be sent Onsight (2) and after-wourk the last one.
Athletes
Laura Rogora: since her first climb for fun, Laura has now become the absolute Italian champion of Lead and Boulder. She was the first Italian female climber to climb a 9a. She is totalling now 2 9A, 2 8C+, 3 8C.
Maja Vidmar: since 2002 she participates in the World Cup competitions, winning them. She is also one of the strongest women on the crag with a climb of 8c +.
Mina Markovic: from 2009 to 2014, she participated in most of the stages of the World Cup in lead and bouldering, where she obtained the combined title in 2011, 2012 and 2013, due to high rankings in both disciplines
Muriel Sarkany: initially, she mostly climbed indoor, but after a few year she also started climbing on crags and boulders, best ever climber in Belgium. She won the Lead Climbing World Cup in 1997, 1999, 2001, 2002, and 2003.
Adam Ondra: he is the only athlete to have won the World Championships in two disciplines, lead and bouldering. In2017 he have redpointed a route with a proposed grade of 9c.
Jorg Verhoven: he opened up some hard routes on big walls where he is now mostly investing his efforts. In the World Cup he won 22 podiums between Lead and Boulder and got a medal in the World and European Lead Championships.
Stefano Carnati: in 2017 he made the ascent Goldrake (9a + / 5.15a) at Cornalba in northern Italy. With his ascent, Carnati joins the ranks of the world's best climbers.
Stefano Ghisolfi: he is now the strongest Italian climber, ever. On November 2015 he first ascended Lapsusin Andonno (Italy), a 70 holds route for which he proposed a 9B (5.15b) grade for a total of 3 9B routes and some 20 routes above 9A.
Additionally, two WIldCarded athletes from the Friday RNLC contest will have the pleasure to climb with the above athletes!
Program:
14:30-16:30 after-works route preparation
17:30 1st OnSight route challenge
20:00 2nd OnSight route challenge
22:00 after-work route challenge (LIVE STREAM)
23:00 prizegiving
---
DJ by night